If You Hear Any Noise
it's just me & the boys - hit me. ya gotta hit the band...
Yep. I've resorted to Parliament tunes as post titles. Hey - it's not like I have Femtroopers to boost my traffic (though I am accepting applications). Just be glad I'm in a decent mood or it might have been Etta James or Big Joe Turner or Sam Cooke.
I've been busy. Odds are I'll be busy for a spell yet. Not nearly as busy as some folks I know but busy enough to keep me from having time to engage JadeGold in the comments of this post, this post, & especially this post. If any of y'all feel like jumping in be my guest. Keep it civil but by all means jump in the conversation.
What am I so busy with? Being a psuedononymous blogger doesn't leave me much room for discussion of my personal life (or lack thereof) but I have a few pics which might explain things.
Some of you know what that pics means. For those who don't it's an AK. Well almost. I'm building one up. I am using a 1.6mm receiver instead of the standard 1mm receiver which means some grinding & fitting had to be done to get the trunions in. Note the receiver isn't drilled for the trunions yet. I'll try to post more pics of the construction once it's completed.


Those are of a sporterized 1917 Enfield that I have. Accurate little rifle. But it needs some improvement. Notice anything about the buttstock? Take a closer look.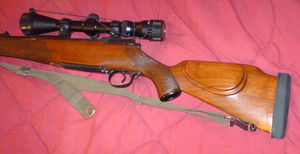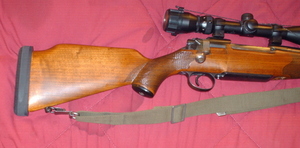 I have the new pad installed (it's a Pachmayr Decelerator) I just need to grind it down to fit. Not a particularly hard task (though touchy in spots) but messy as hell.
& there's more. Scopes are okay & everything but I really prefer iron sights.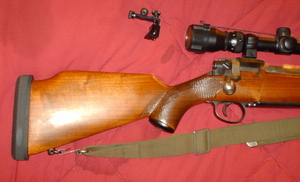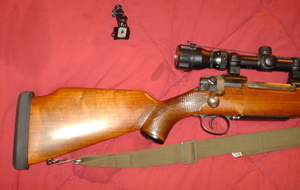 That's a Lyman 57SMET receiver sight. & it'll be the toughest job I have. The receiver of an Enfield is pretty hard. What will be involved is spot annealing the receiver where I intend to drill & tap for the screws (just forward of the bolt handle on the rear receiver ring) to hold the sight on the receiver. Then if I do that right I drill & tap & install the sight. But first I have to make sure the sight is square & plumb & true & a bunch of other not so common words that equate to "straight" in relation to the barrel.
& then there's this.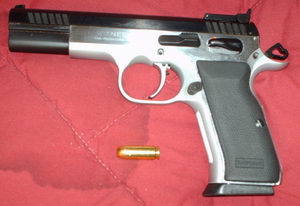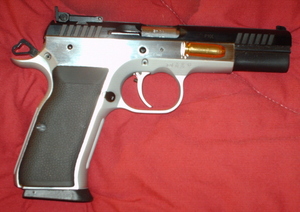 I posted a bit about it before. I still haven't gotten around to taking it to the range & I'm much more unhappy about that than you are. When I finish (as in color the metal) the AK I intend to make it a nice solid matte black instead of the two tone it currently is. & I must find some time to work up some handloads. $0.40 per round is a might pricey for a cheap bastard like myself firearm I can't sling up with. Besides that $0.40 per round is the cheap stuff that's not loaded near the potential of the cartridge. Now we can't have that now can we?
After all that I plan on installing a receiver sight on my 10/22 & then I can get around to doing a few minor things to the Garand. I think.
In between & around all that I'll still be posting. I think. In the meantime enjoy the pics & if you know of any ladies who've always wanted to be Femtroopers send them my way. Or at least someone who'll let me take their pic while they're shooting. I'm sure there's a Sweeps Week coming up sometime soon & there's gotta be a pretty blonde brunette who likes Garands someplace in Colorado. :)
Posted by Publicola at September 11, 2006 06:28 AM | TrackBack