Can I Get A Witness
I miss being back home. If I'd have spoked the title of this post aloud there'd have been at least 2 or 3 folks who would have stood up, raised their hand & said "Amen".
But the answer is yes. It took 4 damn months, but a resounding yes. & a very special thanks to the fine folks of 5280 Armory (especially Matt & Gina) who were very patient with me ("it's been three months. You sure you don't want something else? Anything else???") as we e-mailed EAA almost daily & threatened to turn them into internet verbs if we didn't see product soon. (& yes; if you're in the Denver, Co. area stop by their shop - they're decent folks & have decent wares catering but not limited to the mil-surp & black rifle market).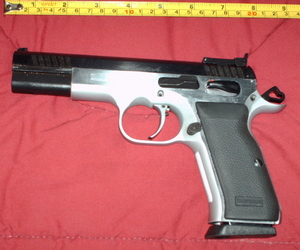 The Witness Elite Match. The Witness line of pistols is merely the name EAA gave to its imported Tangfolio T95 pistols. The Tangfolio T95 is a copy of the CZ-75 & the CZ-75 derives in part from the Sig 210 & Browning Hi-Power.
I haven't taken it to the range yet but I'll let you know how that goes.
The Witness Elite Match differs from the standard Witness in a few ways. The Elite Match is single action (with an over-travel adjustment screw). It has a slightly longer barrel (4.75" as opposed to 4.5"), adjustable sights & an extended mag release. It also costs about $150 more than the standard models.
I cleaned the gun thoroughly as you should with every new (or new to you) firearm & I've been dry firing the thing. The trigger is a two stage (which I prefer) & has a little bit of roughness in the second stage. I'm hoping that dry firing will take care of that before I get it to the range but if it's still there after a few hundred rounds I'll do something about it. It's a fairly light pull. I'd estimate under 4 pounds or so.
The general stats are 4.75" polygonal rifled barrel, steel frame coming in at 33 ounces unloaded, 1.4" wide, 5" high with an overall length of 8.1". It has a rear sight that's adjustable for windage & elevation & an interchangable front post. The mag release is extended & I believe the safety may be as well. I'd have to compare it to a standard Witness safety to be sure though. The magazine holds 15 rounds & it came with one mag. It also came with a neat little cleaning kit that stores in the cleaning rod handle & a nice lockable (by combination) case. It has a two tone finish & rubber grips.
Oh, & it's in 10mm.
I want to switch out the barrel for one with conventional rifling & I may do that soon, if I can find one at a decent price. I'd also like to replace the rubber grips with a nicely figured piece of wood but I'll wait till I see how it shoots before getting any firm ideas about it. At some point I will re-coat the metal to a nice matte black.
I'll let you know how it does on its first range trip which will hopefully be later this week. I wonder if I take someone along would that make them a witness to a Witness? ;D In the meantime here's some more reading for those of you unfamiliar with the Witness/Tangfolio pistols or anyone who just wants to get over that last attempted joke.
Tanfoglio Witness Series Pistols - By Alex Osinski
EAA Witness Pistols By Dick Metcalf
& for those unfamiliar with the 10mm
Posted by Publicola at August 29, 2006 04:57 AM | TrackBack