Still Got Some Sand In My Shoes
I'm back, though swamped at the moment. many thanks to the fine guest bloggers Miss Annika, James, Jed & Matt (who have an open invite to post here anytime).
I'll try to post a brief account of the trip but it'll probably take a little time to get things straightened out with the pics & such. & I'm not the first to say it but hopefully I'll have the chance to elaborate on it soon: in regards to Raich (also look here), SCOTUS was out to lunch.
In the meantime here's some mystery gun pron for ya.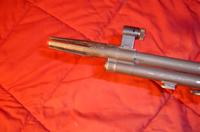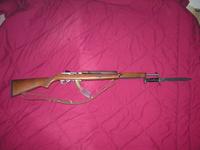 No prizes if you guess the firearms (not too difficult) or the modifications (slightly harder) but I won't call you a gun fancier if you get them right.
Update: 06/17/05 13:30 Answers in the extended entry
Nate got it right: the first two pics are of a Garand. My Garand to be specific. The modifications are the addition of a T-37 flashhider & an Alley aperture front sight. I'll do a more in depth post on the mods sometime soon.
The third pic is a Ruger 0/22 with an Eagle Zephyr aperture rear sight installed & Garand handguards & a bayonet placed upon it. More or less I was trying to see how it'd look with handguards & I threw the bayonet on their for the helluvit. Though from what I'm thinking the rear handguard for a Garand would require just a little whittling to fit nicely on the 10/22 sporter stock. Attaching it could be done a few different ways. The front handguard would be a bit more problematic but if I ever really decide to throw handguards on I have a few ideas about how to do it.
Thanks to all who tried.
Posted by Publicola at June 14, 2005 03:22 PM