Who's Gonna Get Their Head Cut?
If you've ever seen the movie "Crossroads" (not the Britney Spears one) you might recall that question. It's how the devil's servant announces a call for anyone who wants to play against Jack Butler (played by Steve Vai) in a musical contest for their soul (oddly enough Ralph Machio is the one who challenges Vai). In the context it means a contest to see which player was better as his trade.
As luck would have it youtube has the vid of the headcutting sequence from the movie. Just so ya know (in case you couldn't tell) that isn't Machio playing. Ry Cooder does the slide work & Steve Vai does the finger picking for himself as well as Machio. The stage antics of the musicians & dancer are cool & believable enough if you've ever been in a real juke joint but the playing... even the harmonica sounds good (the harp is done by Sonny Terry who passed on a few days before the movie was released. Terry did some work with Blind Boy Fuller among others). Cooder is perhaps the best slide guitar player alive. & Vai - what can I say about Vai? I've been told (when I was a bit younger) that I looked like him & that I played like him, but I've never been close to the guitar player he is (except in appearance, from a distance, with a drink or twelve under the observer's belt). He has his flaws as a player but none I'm really entitled to point out. I couldn't think of anyone better to play the devil's guitar player, or God's for that matter (Segovia is an arguably better choice for the latter, but perhaps not both). If you like blues &/or good guitar work then it's worth it to sit through the movie. But for your convenience here's the vid of the contest between Jack Butler & Eugene in hell. As an added treat if you really dig real blues then here are a few vids of Ry Cooder doing Police Dog Blues, Jesus On The Mainline & Viglante Man very respectively. Damn that kid can pick. Now onto a different kind of cutting.
I like firearms quite a bit but I will readily admit that if allowed only one tool it'd be a good knife (in fact I've said as much in the Needful Things post). They're not as ideal as a firearm for repelling hordes of zombies but they're dead useful when you have to cut or slice something whether it's trying to harm you or not. In fact there are times that I don't carry a firearm on me but I always have a knife. Aside from the general cutting tasks that I run into a knife can be used effectively for self defense (but that's usually a secondary consideration when I grab a blade to put in my pocket). In taking the pics for this post I realized I own more than twice as many blades as I do firearms. 19 blades scattered amongst 15 knives. That I know of.
So with that in mind I figured I'd talk a bit about blades. & show off some pics since I think I've figured out how to work around the upload problems I've been having with photos.
Here's the collection as of right now.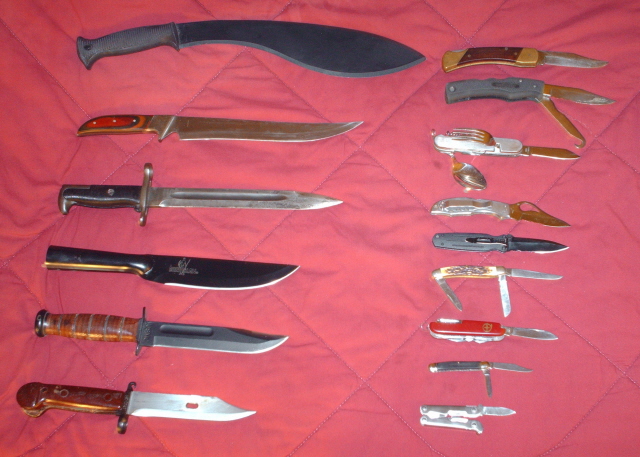 On the left from the top there's a Cold Steel Kukri Machete, a Pakistan made knife, an M1 bayonet, a Cold Steel Bushman, A Ka-Bar Utility knife, & an AK-47 bayonet. On the right from the top there's a Buck folder, a Remington game knife, a camp cutlery knife (notice the spoon & fork) A Spyderco Byrd, a Gerber Applegate Mini-Covert, a Schrade Uncle Henry stockman's knife, a Taiwanese-made Swiss Army knife, a generic jack knife & a Winchester mini-multi-tool.
When I'm out in the more remote areas I like a sturdier & longer knife. Here are the fixed blades by themselves.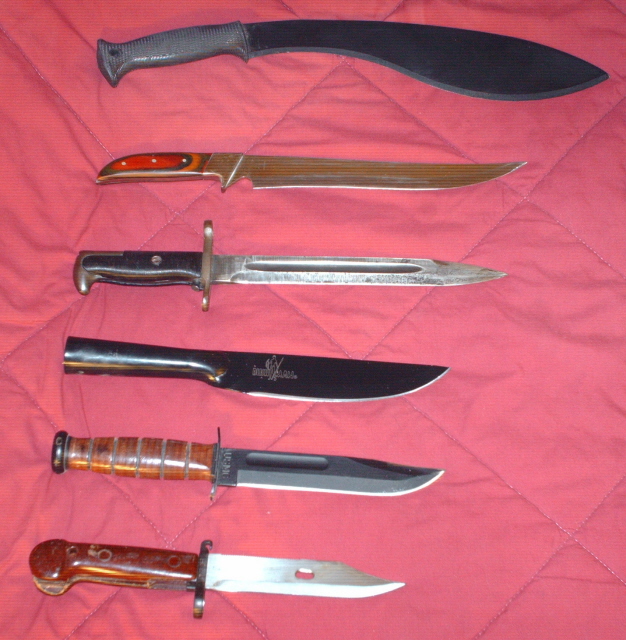 If I have the Garand then I just have to have the M1 bayonet around someplace. Bayonets aren't the best choice as they're not going to be sharpened to the degree a smaller knife will. Sure you could put a hair splitting edge on a bayonet but they're not designed for very precise work. They're meant to penetrate flesh & occasionally wood & such. They'll cut through cord & rope & other things but generally they're reserved for bigger jobs. In any case I don't have very sharp bayonets but they're sharp enough for rough use.
The Ka-Bar is the utility knife of choice when I'm out in the woods. Its blade length (7") is just about right for most jobs I need done in the field, but it's not so big as to be too cumbersome to carry or use. Plus I like the pressed leather handle. To me it's comfy enough to use all day without fatiguing my hands too much. The Cold Steel Bushman wouldn't be a bad choice either. In addition to a decent blade it has a hollow handle in which you can insert a stick to create an instant spear (I wonder if they'll come out with a smaller cheaper model called the Britney?). While I haven't had much use for spears while out in the woods it's a nice option to have. The Cold Steel Kukri is more a small machete than a knife but it's a helluva blade for the size, weight & price. Plus Cold Steel is the only knife maker that I've bought from & haven't had to rush home & sharpen the blade to my liking so I'm partial to their products.
I'm not one of those super weight conscience hikers who thinks an ounce too much will damn me eternally (my lucky streak took care of that a while back) so I usually have a folder or three in my pack someplace for the smaller jobs. Here are the folders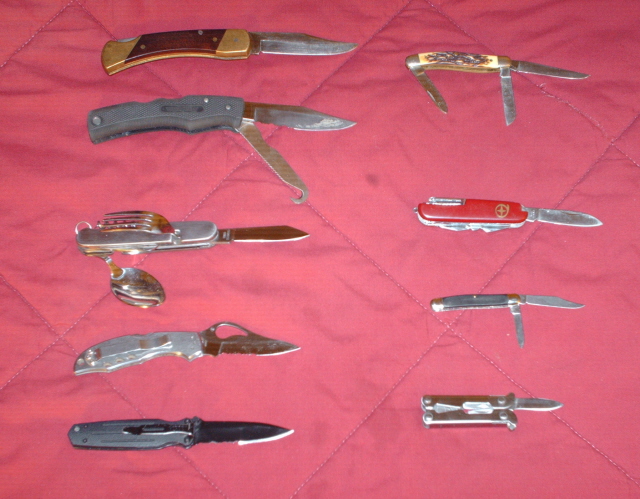 Of those the ones I carry most often around town are the Gerber Mini-Covert, the Spyderco Byrd & the Schrade Uncle Henry. All three have decent blades that hold a nice edge. They're all stainless (which I'm not crazy about in a knife) but since I don't try to put too fine an edge on them they hold up well.
But in my pack in addition to one or more of those three I'll have the made-in-Taiwan Swiss army knife, the generic jack knife (they fit in the same sheath) & the camp knife (forks are a thing of beauty out in the woods). Depending on what I'm doing the Buck or Remington will take up some pack space as well as the Winchester mini-multi tool. They really don't take up a lot of space & I'm a semi-minimalist hiker/camper anyway so I usually have the room to spare. Besides it's much quicker to switch to a sharper knife if one gets dull than to sharpen a blade out in the field.
So a fixed blade or two coupled with a few folding knives is what I usually have when trouncing out in the great semi-unknown. Around town a folder or two is all I've ever needed, though I've been a few places where I'd have felt better with the Cold Steel Kukri on my belt. Folders are nice but they don't convey the idea of "leave me be" like a long thick fixed blade knife in your hand. & in honor of that notion here are the fixed blades yet again.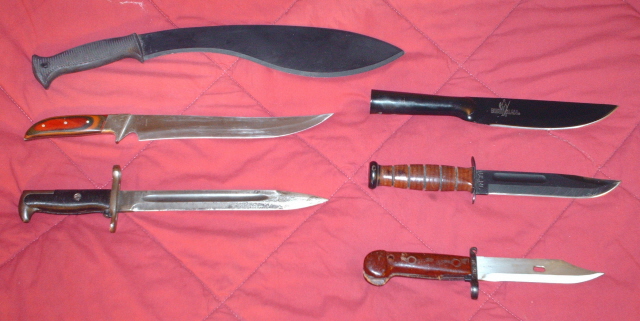 I have no idea how much I have in my knives but I doubt it's that much considering the variety & quality of blades I have. With each one I could have went a more expensive route but for my needs the ones I selected work just as well as a higher priced counterpart. The most expensive fixed blade I have (excluding the M1 bayonet which is a collector's item) is the Ka-Bar & it ran me about $40 when I bought it. The priciest folder is the Gerber Mini-Covert at around $35. I could have easily spent 4 or 5 times as much on similar knives & there'd have been a difference in quality, but as I said the choices I've made suit my needs.
So there's a down & dirty round up of the blades I own. I think. I'm usually good for finding a knife I'd forgotten about every now & then. You might have different preferences but knife choice is a very relative thing (ask my dad - sorry; couldn't resist that one). What matters most is that the blade is sturdy enough for its task, the lock is sturdy enough to be safe (on a folder of course) & the steel is able to hold an edge appropriate to your task. A comfy handle helps as well. The rest is generally a matter of preference (though blade shape will make some jobs easier) & there aren't many wrong choices (though there are a few). & since it's that time of year they do make great gifts if you're not looking to go through the potential legal hassles of buying a powder burning tool for a loved one. I'm full up on blades (though there are a few I do kinda have my eye on - I'm just trying to find a decent justification for them) but I'm sure there's someone in your life who might like a decent folder or fixed blade. Maybe that someone is you?
Posted by Publicola at December 24, 2006 04:48 AM | TrackBack